5 mins read
If you are looking to get away from typical tourist spots but are still touristy nonetheless, we have prepared a list of places that you can visit for free! Here are 5 alternative tourist spots in Singapore.
Singapore Botanic Gardens

Credit: Singapore Botanic Gardens' facebook
Singapore Botanic Gardens is the first and only tropical botanic garden on the UNESCO's World Heritage List and is a great option for friends, couples, and families to gather, away from the bustling cityscape.
Catch up with friends and families over brunch at one of the many restaurants located in the Gardens. You can even have a picnic at Palm Valley, Symphony Lake or other popular picnic spots within the Gardens. 
Iconic gardens you can explore are The National Orchids garden, with the world's largest orchid display (over 60,000 plants & orchids), Ginger garden with a waterfall, Jacob Ballas Children Garden, Learning Forest, and many more. Excited to explore Singapore Botanic Gardens? Click here to find out which trail best suits you!
Address: 1 Cluny Road, Singapore 259569
Nearest Station: Botanic Gardens MRT station (Circle Line)
Sembawang Hot Spring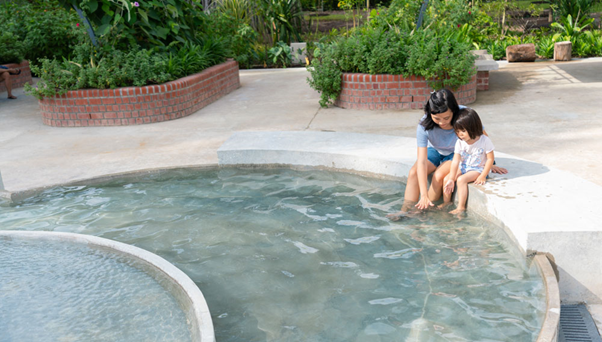 Credit: NParks
Hot spring in Singapore? Yes, you heard me right.  Head over to our one and only natural hot spring in Singapore located at Sembawang. 70°C water emerges from the top of the 4-tier cascading hot spring and reaches the ground layer at 40°C, making it the right temperature for your tired feet. 
Stroll along the Floral Walk after your soak to discover the various types of fruit trees and edible plants. If you are thirsty for knowledge (pun intended), spot the educational panels to learn about the history and geothermal process behind the hot spring.
For those who are looking to get the full hot spring experience, there's even an Egg Cooking Station for you to boil some eggs on the spot!
Address: Along Gambas Avenue
Nearest Station: Yishun Station (North-South Line)
Haw Par Villa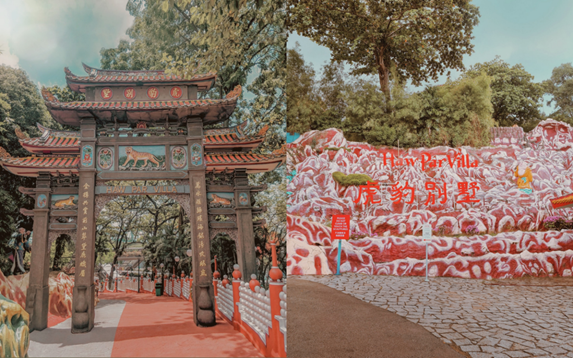 Credit: Singapore Tourist Pass's Instagram
Based on one of the world's oldest cultures, Haw Par Villa is a depiction of ancient Chinese's beliefs. If you are a history buff or on a lookout for an out of this world experience, step into the park's Ten Courts of Hell.
If gory scenes are not your thing, you can take this opportunity to discover Chinese folklore, legend and mythology vividly depicted through over 1,000 statues and 150 dioramas. Look out for famous scenes from Chinese literature such as Journey To The West, Madame White Snake, and the stories of the Eight Immortals.
*Visitor discretion and parental guidance are advised for visitors to the "Ten Courts of Hell" due to the graphic nature of the exhibits.
Address: 262 Pasir Panjang Rd, Singapore 118628
Nearest MRT: Haw Par Villa (Circle Line)
Coney Island Park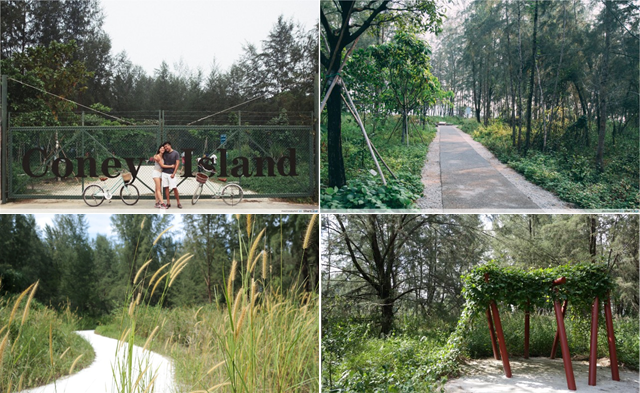 Credits: The Smart Local & NParks
If you fancy trekking in nature and snapping some shots of birds & OOTDs, do visit Coney Island Park. Facilities located within the park such as the benches, boardwalk and signboards are made from timber obtained from uprooted Casuarina trees, reflecting the sustainable nature and rustic character of the park. This park also tops many locals' list of Instagram-worthy spots. Some photogenic spots are the lalang field, boardwalk, amidst the tall casuarina trees and at the birds' shelter.
Tip: Rent a bike and bring a water bottle along as it's going to be a long journey, with no water points & toilet within the park.
Nearest MRT: Punggol Station (North-East Line)
Direction: Take bus 84 from Punggol MRT to Punggol Rd End.
Maha Sasanaramsi Burmese Buddhist Temple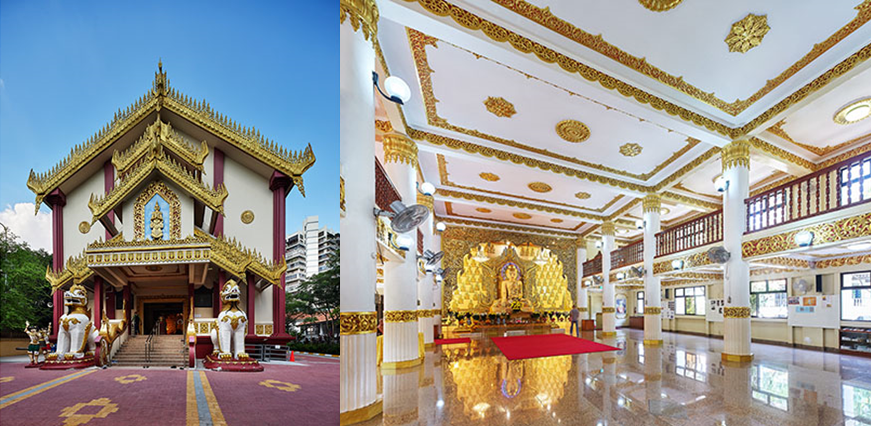 Credit: Roots.gov.sg
After relocating from Kinta Road to Tai Gin Road, the new Maha Sasanaramsi Burmese Buddhist Temple was completed in 1992.  The architectural style of the temple reflects a blend of traditional Burmese elements and modern features, making it the first of its kind to be built outside of Myanmar. To retain its authenticity, the tiered roof of the temple features intricate carvings made from Burmese teak.
Apart from its design, the highlight of this establishment is its 3.3-metre-high Buddha statue carved from a 10-tonne marble block found near Mandalay, Burma, in 1918. It is also the largest known marble Buddha statue outside Myanmar and is definitely a sight to behold
Nearest MRT: Toa Payoh Station (North-South Line)
Direction: Take bus 139 or 145 from Toa Payoh Bus Interchange alight at the 3rd stop, in front of Ramada Hotel.
____________________________________________________________
Hassle-free travel around Singapore with one pass!
Venture around the island with unlimited travel* on Singapore's extensive public transport system with Singapore Tourist Pass (STP). STP is available in 1-day ($12), 2-day ($9) and 3-day ($24) passes; a $10 refundable deposit is required and comes with many perks & discounts too!
STP is currently available at Changi Airport TransitLink Ticket Office at Changi Airport MRT Station located at Terminal 2. For the latest update on locations and operating hours, click here!
Follow @SingaporeTouristPass on Instagram for inspiration if you're on the lookout for more OOTD spots!
Things to note:
The duration and validity of the pass are based on the operating hours of the basic public transport system, 1-day coverage of the pass begins from your 1st usage of the pass to the end of the public transport service for that day. For timings and operational hours of the bus services, please refer to TransitLink's website at:

https://www.transitlink.com.sg/

Usage of 2-day and 3-day passes must be on consecutive days.

*Unlimited travel is only applicable for public bus and train services. The pass excludes rides on premium services such as Sentosa Express, RWS8, Night Owl, NightRider, Chinatown Direct, express buses as well as other premium and niche bus services.

 

Prices apply to adults and children above 0.9m in height.
For more information about the Singapore Tourist Pass, please visit https://thesingaporetouristpass.com.sg/. 
Note: In line with the latest safe distancing measures, group sizes of up to 5 pax will be permitted at parks, gardens and nature reserves, from Monday, 22 November 2021.  If you're planning to visit these green spaces, you may check the visitorship levels via the safe distancing portal first and avoid the ones with high visitorship. 
Article by: Belinda Leow
Information is accurate as of 22 November 2021