Don't be fooled: despite its size, there is so much to explore in Singapore that whether you're here for a couple of days or a couple of weeks, an action-packed schedule is inevitable. You'll find vibrant neighbourhoods influenced by Chinese, Malay, and Indian culture, world-class restaurants and bars, art galleries, museums, parks, gardens, and more to fill your days. However you choose to spend your time, make your next trip to Singapore a memorable one by visiting some of the most iconic tourist attractions the island has to offer. Here are our top 10 ideas for your to-do list next time you're in the city.
Before you start exploring, don't forget to purchase a Singapore Tourist Pass for unlimited access to the efficient MRT, LRT, and bus route network. It's the most efficient, hassle-free way to whizz around the city.
Esplanade
The two rounded, durian spiked domes of the Esplanade epitomise Singapore's bold approach to modern architecture. Step inside and you'll find an explosion of music, theatre, dance, film and visual arts; dependent on when you visit you could catch anything from chart-topping bands and touring West-end shows, to Shakespearean plays and cultural festivals.
Gardens by the Bay
Spanning 101 hectares and containing over 1,000,000 plants, it's no wonder this 'garden in the city' is one of Singapore's most popular tourist attractions. Visit by day to explore the ginormous flower dome bursting with colourful blooms and cloud forest that contains the world's tallest indoor waterfall. Or visit by night to catch the spectacular light show as it illuminates the 12 futuristic supertrees that are synonymous with Singapore's skyline.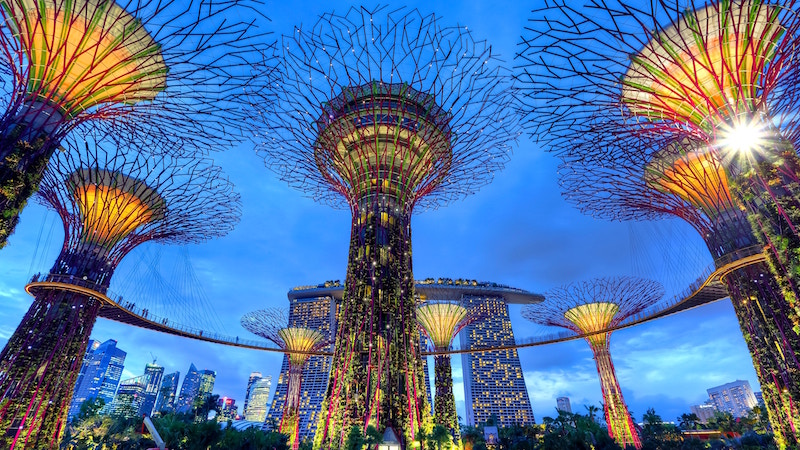 Universal Studios Sentosa
Head to Sentosa for a thrill-seeking day at Universal Studios. Experience cutting-edge rides based on blockbuster films and TV shows that will leave the entire family screaming for more. Hate queuing? Purchase a fast-pass to skip straight to the front of the ride lines.
National Museum of Singapore
Calling all culture vultures! Learn more about Singapore's heritage at the oldest museum in the city. Dating back to 1849, the National Museum showcases the country's diverse culture and rich history.
Botanic Gardens
Singapore's first and only UNESCO world heritage site is a must-visit. Packed with stunning walks and trails, it's a pocket of tranquility that offers a peaceful respite from the hubbub of the city. Be sure to stop by the National Orchid Garden to experience an explosion of colour from over 1000 species including Singapore's national flower, the Vanda 'Miss Joaquim'.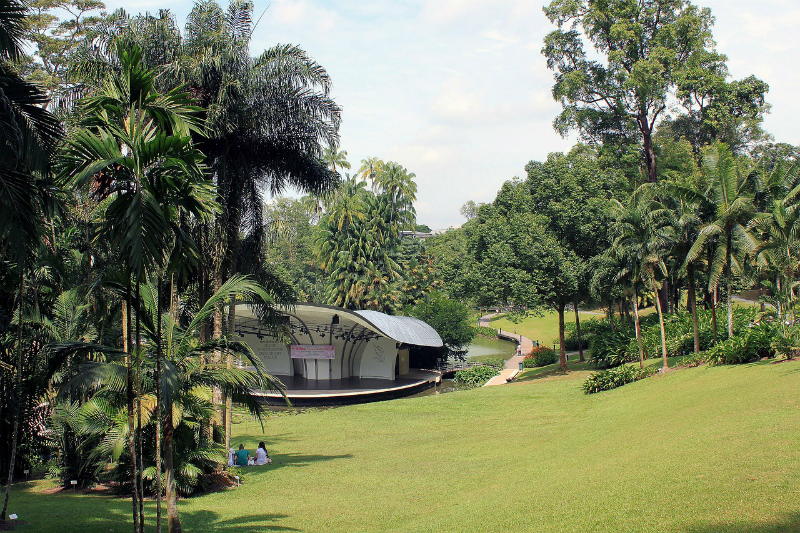 National Gallery
Home to the world's largest display of modern Southeast Asian art, the National Gallery is packed with unique exhibitions and installations. Once you're done browsing, refuel with a visit to one of the resident award-winning bars and restaurants like Michelin-starred Odette, Violet Oon's National Kitchen, or cocktail bar Smoke & Mirrors which boasts stunning views over Marina Bay.
Singapore Zoo
Get up close and personal with a myriad of exotic animals at Singapore Zoo. Arrive early to enjoy a breakfast dining experience with orangutans, or visit in the evening to experience the brilliant night safari; you'll be driven around the open enclosures to witness the nocturnal activity of some of the zoo's friendlier residents!
Lau Pa Sat
A trip to Singapore isn't complete without frequenting a hawker centre to feast on local delicacies and delights. And Lau Pa Sat in the heart of the CBD is one of the more popular on the tourist trail. This is your chance to sample some of SIngapore's favourite dishes including chicken rice, char kway teow, or Hokkien mee.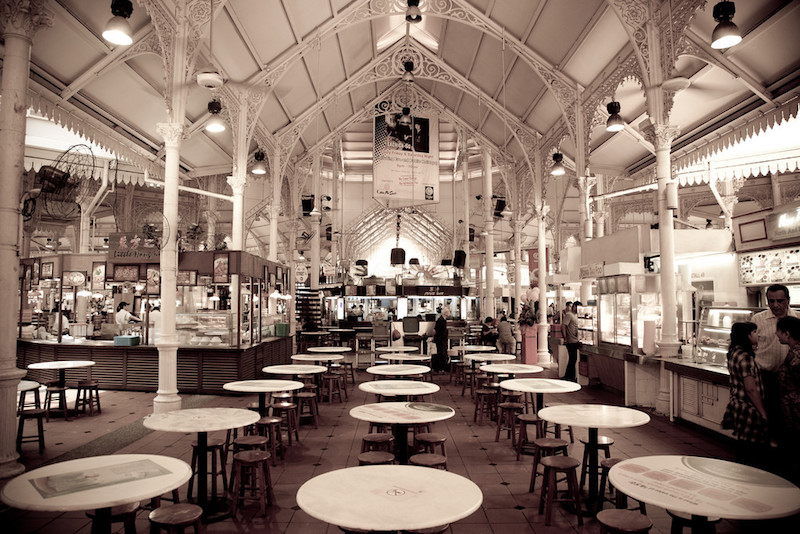 Changi Chapel and Museum
Explore the horror and heroics of Singapore's wartime history with a visit to Changi museum. Located in the east of the city, it pays tribute to the POWs and civilians who were interned between 1942 and 1945 during the Japanese occupation of the little red dot; a sombre yet fascinating history lesson.
Haw Par Villa
For something uniquely Singaporean, a trip to Haw Par Villa will thrust you into the depths of ancient mythology. Built in 1937, this quirky 'theme park' is an unusual way to spend the day and is famed for its (often gruesome) depictions of Chinese folklore.